Another batch of challenges are available in Fortnite: Battle Royale. Players who have purchased the Season 4 Battle Pass can complete a set of seven objectives for Week 6, including those that have you searching for a point near a playground, as well as Carbide and Omega posters that you have to spray over. Here's how to complete all of the Week 6 challenges.
First up are the posters. Week 6 challenges task you to spray over different Carbide or Omega posters. You'll find these scattered around the map, and you'll need to spray on top of seven of them total. There are more than twice as many on the island, and this doesn't need to be done in a single match. Spraying over a poster just involves holding the use button/key, just as you would to open a chest. You can consult the map below to see all of the poster locations that we've been able to confirm.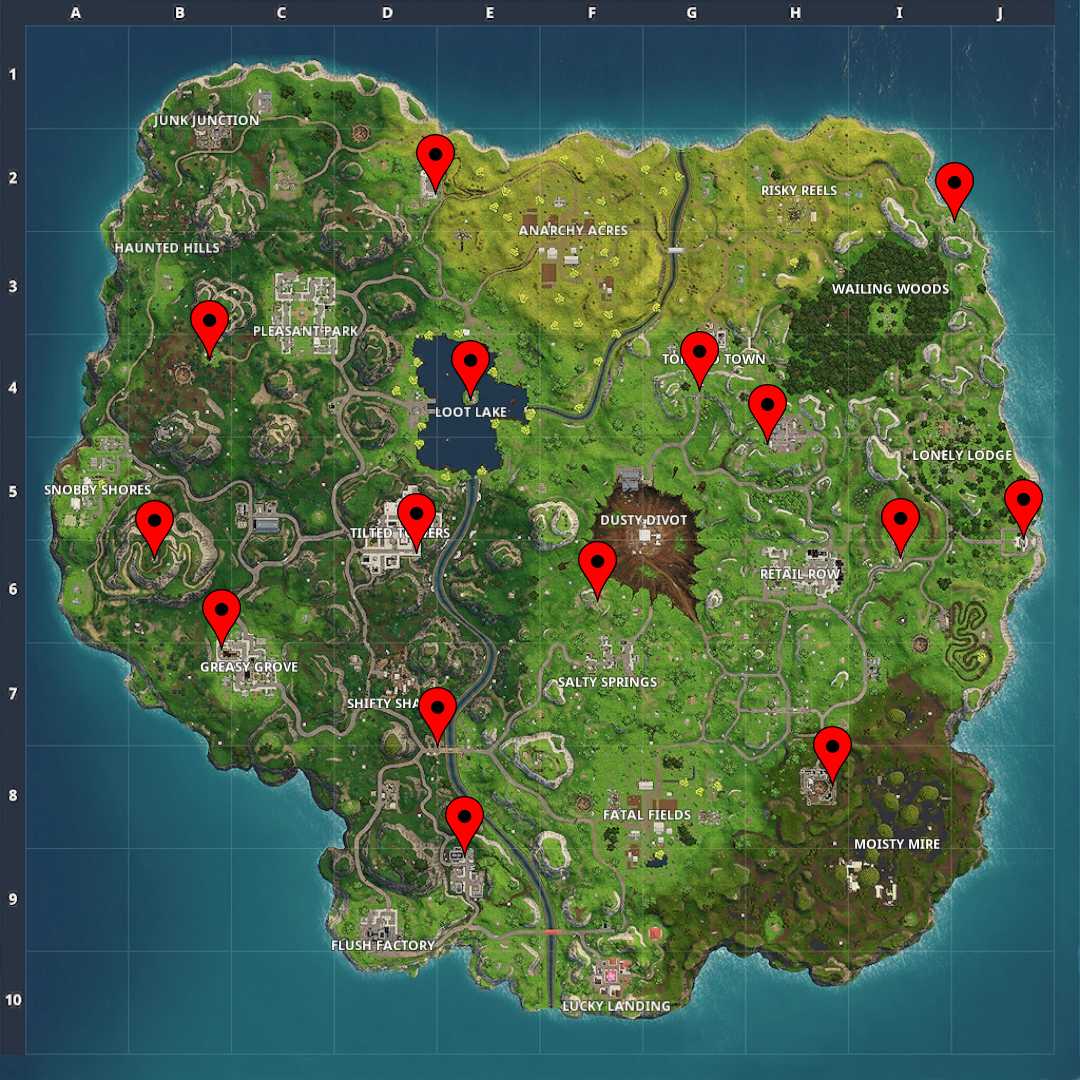 The other tricky challenge for this week is a Hard-difficulty one that has you search between a playground, campsite, and footprint. This might not be tough if you recognize some of these locations, but you can just check out the map below to see exactly where you have to go. Located in between these points, you'll find a Battle Star icon; just walk up to it and you can collect it to complete the challenge.

The remainder of Week 6 is relatively straightforward. You'll need to deal 1,000 damage with shotguns, which you'll most easily be able to do in close-quarters, indoor locations–heading to a place like Tilted Towers may be your best bet. Another calls for you to search three supply drops; these spawn more often in some alternate modes, so you may have more luck finding one by jumping into one of those. Searching chests in Loot Lakeand eliminating opponents in Retail Row is as simple as repeatedly dropping at those locations at the start of a match until you've racked up your requisite numbers. If you can get your hands on an SMG while in Retail Row, you can also knock out another challenge–three SMG eliminations.
Fortnite Week 6 Challenges
Search Supply Drops (3) — 5 Battle Stars
Deal damage with Shotguns (1,000) — 5 Battle Stars
Search Chests in Loot Lake (7) — 5 Battle Stars
Spray over different Carbide or Omega Posters (7) — 5 Battle Stars
Hard: Search between a Playground, Campsite, and Footprint — 10 Battle Stars
Hard: SMG Eliminations (3) — 10 Battle Stars
Hard: Eliminate opponents in Retail Row (3) — 10 Battle Stars
Some of the contents are from the internet, if these contents infringe on your copyrights, please contact me. All contents doesn't represent my points.