Content
Despite being a lifelong fan of Nintendo, I've never really enjoyed The Legend Of Zelda. I know that in the eyes of the faithful this probably makes me a heathen, but the series' patented use of sprawling, hour-long puzzle marathons always turned me off. No doubt because I was terrible at them. Of course, I'm able to appreciate The Legend Of Zelda's pedigree, its cast of endearing fan-favourite characters, and its enduring longevity in the face of an ever-changing industry. But of the flagship Nintendo franchises, my go-to has always been Super Mario, with its accessible, yet often ruthless platforming gameplay.
You can imagine my quandary then, when it was revealed that The Legend Of Zelda: Breath Of The Wild was going to be the one of the few noteworthy titles for the Nintendo Switch's first few months. With Super Mario Odyssey still very much in the distance, and my insatiable desire to be a guinea pig for new hardware mounting, I decided to put my faith in Breath Of The Wild. It looked different from past Zelda games and I hoped that it would be enough to see me through, at least until Mario Kart 8 Deluxe. I bought the game, fully expecting to put it down after a few hours.
How wrong I was. At the time of writing, I am still knee-deep in the game and loving every moment of it. Yes, it's still Zelda at its core – Ganon is back, making a right pig of things, and it's up to Link and Zelda to save Hyrule once again. This time however, many of the usual Zelda conventions have either been completely reconstructed or done away with entirely. Hyrule itself is now a vastly expansive and completely lived-in open world – perhaps one of the most impressive I've ever seen (and that's coming off of the back of Horizon Zero Dawn!).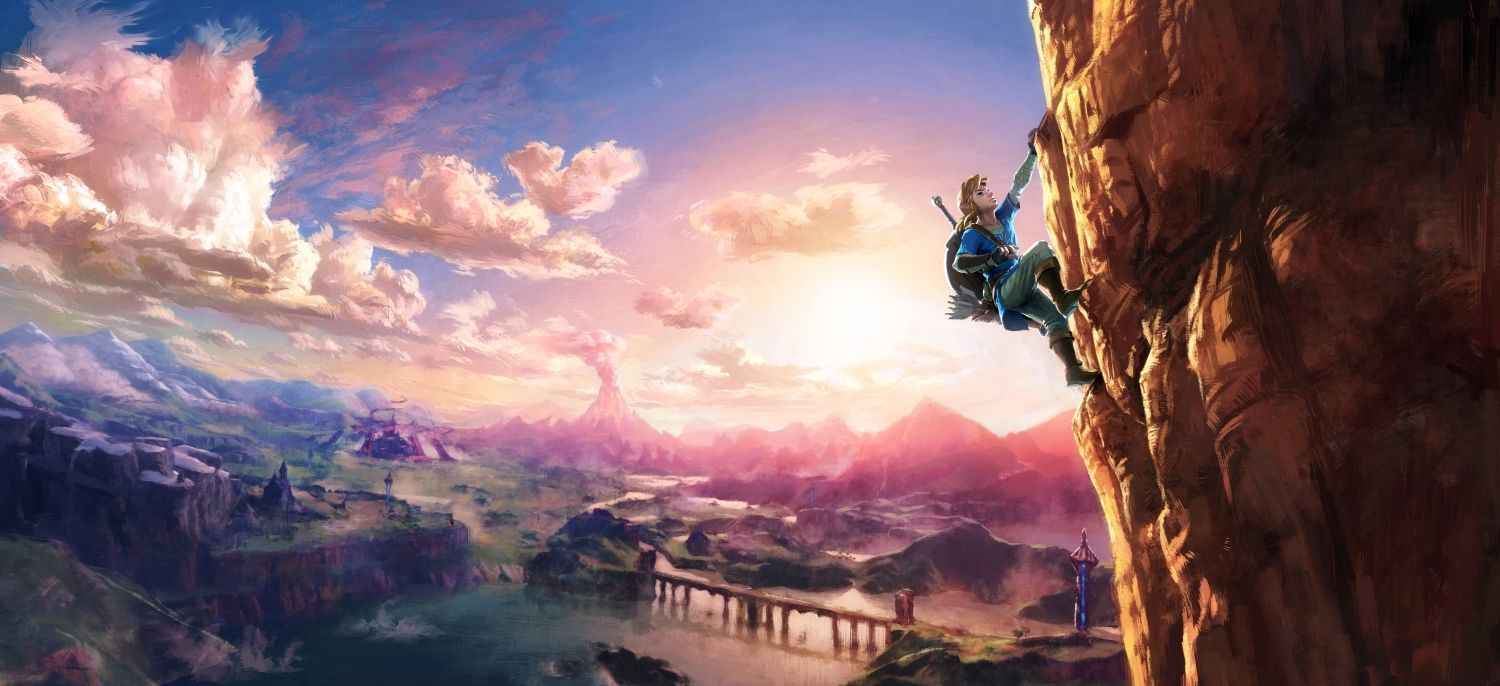 There's something so incredibly immersive about a world brimming with personality and colour, where even the lowliest of Bokoblins can be caught boorishly chasing deer, where cresting a fully scalable hill will unveil a secret at almost every turn, and where the world meshes both the grand and the intimate with such finesse.
So yes, the newly-crafted world is immense and exciting, but is it fun? Well, yes, it is. Breath Of The Wild is doggedly tough, but it employs so many unique and intriguing mechanics that I love the game all the more for it. The world of Hyrule is constantly pushing back against you, from earth-shattering thunderstorms that slick the mountainside with rain, to freezing cold peaks that threaten to chill you to your bones. So much so that every advance feels like a triumph.
It's in these details that Hyrule truly comes alive and becomes more than just a static playground. And while there are still a couple of the stalwart Zelda dungeons, puzzling has now for the most part been broken up into easily digestible chunks, constantly drip-feeding the sense of reward and completion across the whole of the game world.
By taking Zelda back to the drawing board, breaking it apart and rebuilding it from the ground up, Nintendo have managed to take this age-old franchise and do something wonderful. Breath Of The Wild appeals to series diehards, with references and throwbacks to games past, while also flinging open its doors to relative franchise lightweights like myself.
I didn't expect it, but Nintendo's wildly differing take on its acclaimed series is the first to properly engage me. I liked Ocarina Of Time, mostly enjoyed Twilight Princess, and marvelled at The Wind Waker's gorgeous art style. But thanks to Breath Of The Wild I'm finally, truly loving a Legend of Zelda game. And it's about time too.
Read more: http://metro.co.uk/2017/03/18/how-breath-of-the-wild-got-me-to-finally-enjoy-zelda-readers-feature-6517222/#ixzz4c3c0SSoH
A block-matching game where players must spell words from falling letters.
"From the team behind The Legend of Zelda: Majora's Mask 3D comes a daring new adventure that expands on everything RPG fans love about the genre. As a chosen Seedling, your mission is to build a prosperous oasis by working with your partner, [...]